Curriculum Intent
Our curriculum aims to ensure that each pupil has a meaningful and informed journey based on progression. Whether they are with us for 1 year or 12 years, we want to prepare them in the best possible way for the next chapter in their education and ultimately adulthood. Our curriculum provides a holistic approach that focusses on developing academic achievement alongside the areas required to make them as independent as possible. We aim to reduce the level of support each pupil requires over time. 
Curriculum Implementation: 
The principles of Nurture are embedded across school along with child centred approaches. Classes are grouped by each pupil's developmental needs rather than their age. Our Three Pathways support this and enable us to provide a highly relevant curriculum for each child. 
Curriculum Umbrella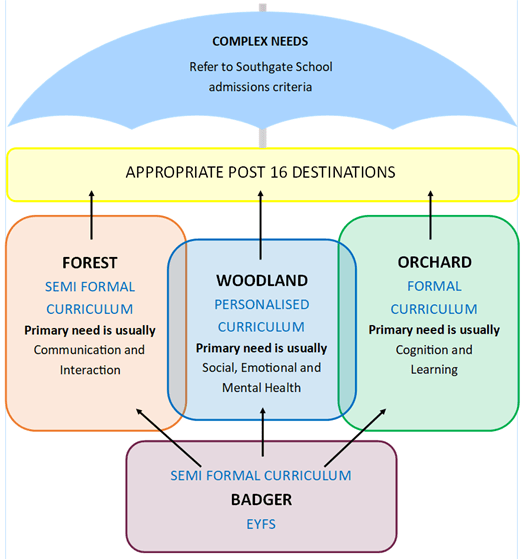 Curriculum Progression

Curriculum Trees and Intentions

Each of the curriculum areas above has a curriculum 'tree' that has been created to show progression between 5 different stages. This identifies the key intentions for each area and the skills that we feel are most beneficial to our learners. Stage 1 and 2 (P Scales through to working towards Year 1 expectations) relates to the semi-formal curriculum and Stage 3 to 5 (Year 1 to Year 4 expectations) the Formal Curriculum. At Southgate, it is rare for pupils to be working above Year 4. Where pupils are working above this in any area, their curriculum will be personalised within the teacher's medium-term plans.

Curriculum Impact

Each National Curriculum area (e.g. History) has a teacher co-ordinator. They are responsible for ensuring that there is a broad and relevant curriculum for that area and that it is being delivered. In addition to this, each Southgate Curriculum area (e.g. My/ Our World) is co-ordinated by an experienced teacher. They will review the curriculum area to evaluate impact and progression. For English and Maths, this will be done by the Subject Leaders. Pathway Leaders have will continuously triangulate information to review the impact of the Semi-Formal, Formal, and Personalised Curriculum.

 

The key areas of English (Reading, Writing, Speaking, Listening) and Maths (Number, Using and Applying, Shape, Space and Measure) are assessed using PIVATS 5. This is monitored and evaluated by senior leaders and the English and Maths Leads to identify trends and pupil priorities. Holistic assessment is undertaken by collecting WOW moments by all members of the staff team, which help us to identify progress made against the outcomes set in their Education, Health and Care Plans, and the further broken-down outcomes which are in their Individual Learning Plans. Pathway Leaders review the quality and impact of this.

 

At Southgate, we highly value the views of our pupils and their families. We regularly strive to gather pupil voice about the curriculum and its impact on them. We also seek the views of parents and carers through the annual review progress and working together.